BrandIntroduction
Professionalism
We especially customize the taste of simplicity for you.
Although having accumulated over 20 years of experience in tea making, we have never forgotten our original mission as time went by. Whatever is better we will reach it for you! If there is a better ingredient, we keep searching on and on. This search will continue until we have found the best one.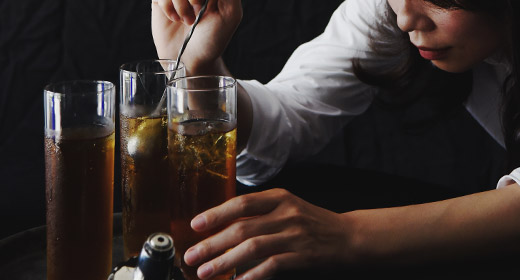 For us, Professionalism is meant to demonstrate our best effort and the fruitful results of our insistence. For pursuit of standardization, we prudentially calculate and measure gram by gram. Skilled gestures are not only for accuracy but for precision.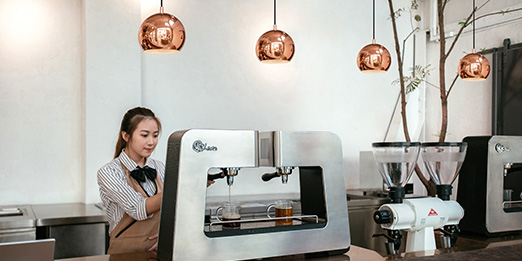 Unlike other beverage shops on the markets using espresso machines for tea brewing, we spent two years developing our exclusive teapresso machine – the professional patented Teapresso Machine-LION II especially for Chi Cha San Chen. To achieve both pleasant appearances along with satisfactory functionalities, we keep on adjusting and modifying. By adopting a hollow design for the body, a unique smart touch panel, and precise custom-made tea categories, we are able to create 6 different base characteristics and flavors of essence tea suitable for Chi Cha San Chen. In accordance with the perfect presentation of the tea broth, we were able to develop exclusive designs in designated to its functions. By using the principle of high temperature and pressure, well-grounded tea powder and hot water can completely extract the essence of the tea broth instantly to minimize the error value of each cup of tea. After repeated tests, tea-specific parameters and ratios are produced for every type of tea. It allows brewed tea broth to entirely retain the fragrance, sweetness and rhyme of tea leaves.
After ten and thousand rounds of tests, all the foundations rely on the guidance of the long effort for numerous years. Different perspectives, every inch of space, and every cup of drink are involved with all our best efforts, making graceful demonstration on the stage. We spare no effort for materialization. Only insistence can be seen. Every cup of the sweet and simple flavor is customarily made for each customer, through on-site grounding and brewing.